Photographic Guide to Birds of the World (798 of 9702 possible species)
---
Bird photos taken by Marcus Martin on various birding trips to places including Antarctica, Canada, Ecuador, Mexico, Panama, South Africa, and the United States of America. All birds shown here (except the Whooping Cranes) were photographed free and in the wild.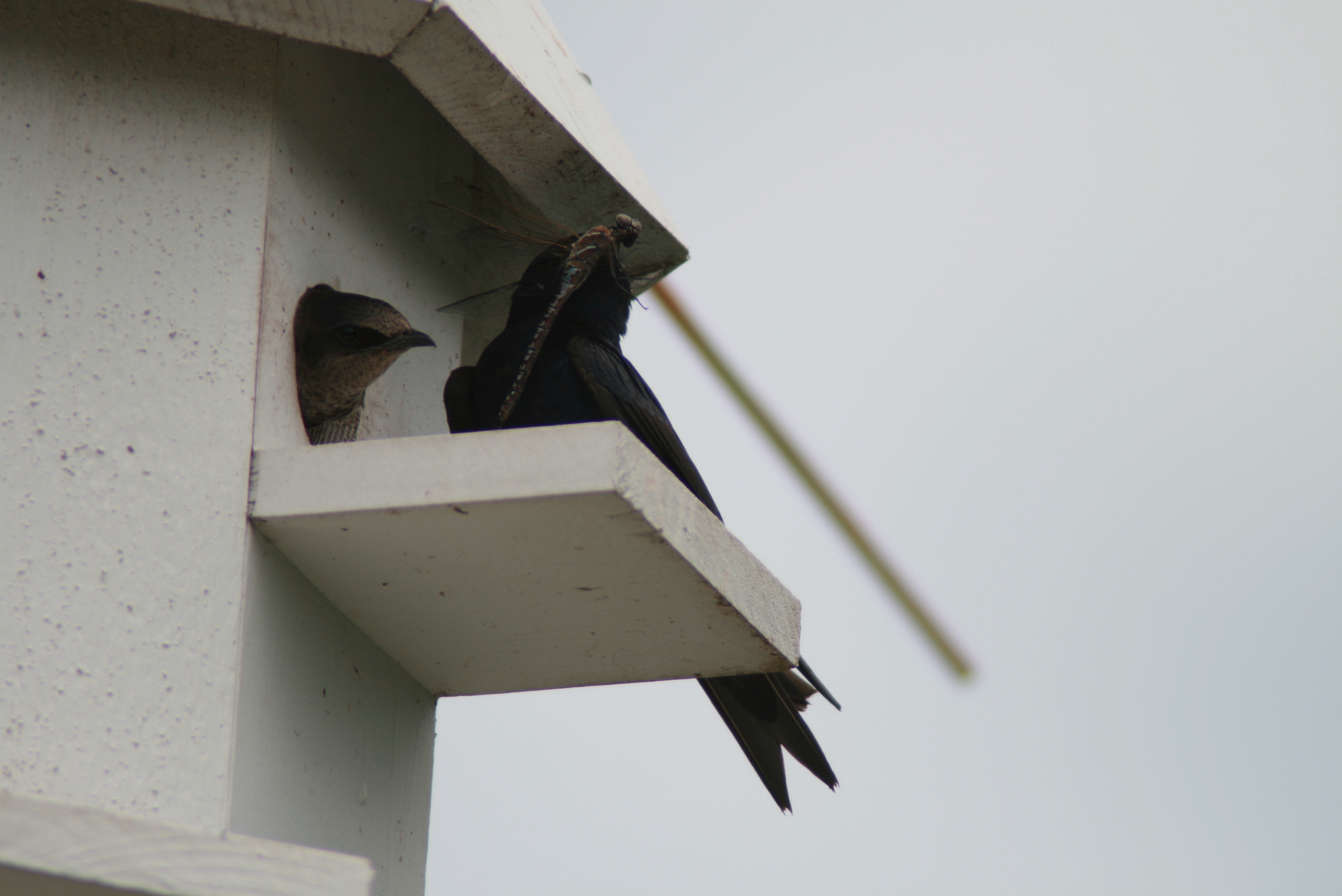 Purple Martins (with dragonfly), Lake Minnetonka, Minnesota, June 2016

Latest Photo Additions: Minnesota June 2016 including Purple Martin and Common Loon. Copyright for all photos on this site belongs to Marcus Martin.

Prints and publication rights are available in the sales center if you see a photo you'd like to use for a publication, presentation, or to cover a stain on the wall.

The photograph file names begin with the common English name of the bird, and are then are followed either by the year the photograph was taken (which means it was a digital picture) or a code that identifies the roll of film. These codes are sometimes followed by a description of the photograph when there are multiple photos of the same bird species taken on the same day (digital) or on the same roll of film.

If you believe that any birds have been misidentified please let me know. Feel free to send comments about the site to me at towhee@photobirder.com.

Mystery Birds has its own subpage. Take a look and voice your opinions about these bird photos.
---
The photos are arranged following the spirit of the Sibley and Monroe 1990 tome. The numbering of those species that I use here is from a version of Sibley and Monroe taken from the now defunct ornitaxa.com website. Wikipedia maintains a Sibley-Monroe checklist that is just short of 10,0000 entries and species accounts, while the original publication lists 9672 species, and the list used here contains 9702 species. The first line of each bird entry below contains the Sibley-Monroe common English name, and scientific name. Avian taxonomy is still fluid and other authors occasionally use different english common names, or even have different scientific names. Where present, these are also listed along with a reference to a work (often a field guide) that uses the alternate name. Several bird species have either been split into multiple species by other authorities, or can be broken into multiple subspecies that are distinguishable in the field. These are listed here as "forms" under the parent Sibley and Monroe species name. Conversely, some species are visiually indistinguishable and I lump them together into a super-species to account for the cases where I cannot conclusively determine the species from the photograph. This is done for convenience and does not reflect an opinion on which forms deserve full species status. References Photographic Equipment
Prior to March 1996: An old 35mm point and shoot so pathetic that someone once asked me how many cereal box tops I had to trade in to get it.
April 1996 - November 1998: Canon EOS (film) Rebel with a Canon 75mm to 300mm zoom lens.
December 1998 - June 2007: Canon EOS (film) Rebel with a Tamron 200mm to 400mm zoom lens.
July 2007 - present: Canon EOS (digital) Rebel XTi with either a Tamron 200mm to 400mm lens or a Canon 100mm Macro lens

Except the December 2007 Copenhagen photos used a digital Mactiva
---
Animalia - Chordata - Aves
Struthioniformes Tinamiformes Craciformes Galliformes Anseriformes Piciformes Galbuliformes Upupiformes Trogoniformes Corachiiformes Coliiformes Cuculiformes Psittaciformes Apodiformes Trochiliformes Strigiformes Columbiformes Gruiformes Ciconiiformes Passeriformes
---
Return to the Photobirder main page

Last updated April 17, 2018 by Marcus Martin

Copyright for all photos belongs to Marcus Martin