Photobirder Adventure in Panama August 2008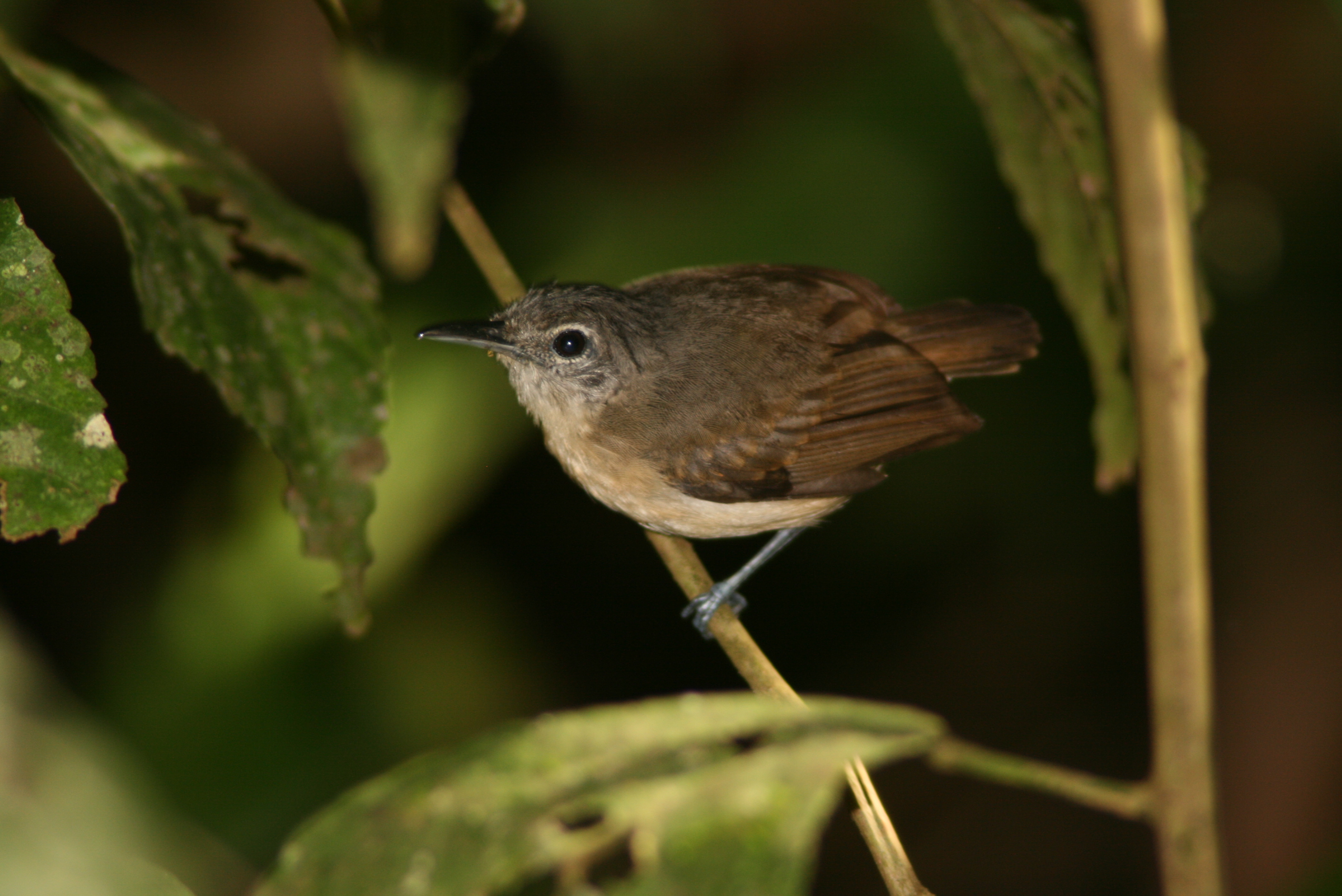 White-flanked Antwren, old Gamboa Road, Gamboa, Panama, August 2008
---
---
Places visited and books utilized
Canopy Tower in Gamboa, Panama.
la Estancia del Encanto Bed and Breakfast in Altos del Maria near Sora Panama
Where to Find Birds in Panama A Site Guide for Birders, George R. Angehr and Dodge & Lorna Engleman, Panama Audubon Society, 2006, ISBN: 9962-8847-5-6
Trip Report

This was my second trip to Panama and it was thrown together at the last minute with the main purpose of getting down to Panama in time to get a Forestry Visa before all the rules changed due to a new law. That meant I needed to hang around near Panama City for a few day to conduct some business there, so the logical choice was the nearby birding hotspot of Gamboa. I still packed almost everything into a single carry-on backpack, but checked a small cardboardbox box full of bug spray and sunscreen having learned my lesson last time.

Friday August 15, 2008

The flights from Albuquerque to Panama city (via Houston) went as planned, but there was a little bit of problem with the Thrifty rental car as the local folks had no record of the car I had booked on-line the day before. Thankfully I had a printout of my on-line booking so after a small delay the car was ready. There was also the little problem that I had no hotel arranged for this night as the Canopy Tower was completely full, but I had a short list of other hotels roughly in that area and figured I would find something. I must have looked especially hopeless as I was leaving the airport as the Tourist Police asked me if I knew where I was going and I admitted that I did not exactly know the way to Gamboa. This led to them leading me across the town to the Canopy Tower (those are some very helpful police). Alas, the police I was following knew as much English as I knew Spanish (not much all around) and it was not possible to convey the notion that I did not have a room booked at the Canopy Tower that night. Anyway, the Canopy Tower folks at first let me inside the compound and I settled down for a night in the car, but then someone who spoke English arrived and told me to come back again tomorrow. I headed down to Clayton and tried the Holliday Inn (full) and the Albrook Inn (full) and then parked my car in a parking lot by the Albrook and settled down for the night. An inauspicious start, but at least I knew where I was going tomorrow.

Saturday August 16, 2008

It is rarely difficult to spring into action the first morning of a birding trip, and spending the night in the car made it even easier to get going early. In the pre-dawn light I awoke to two Red-Lored Parrot in the nearby trees. My second bird was the much less rare Tropical Kingbird and now things were officially under way. I then headed to Ciudad del Saber in Clayton to locate the Forest Finance offices I would need to visit again later in the week. There is a large park in the center of this business area containing baseball and soccer fields. An easy hike around on the walking trails provided Grey-breasted Martin, Ruddy Ground-Dove, Yellow-bellied Seedeater, Fork-tailed Flycatcher, Tropical Mockingbird, Pale-vented Pigeon (back), Great Tailed Grackle (female) and (male), Southern Beardless-Tyrannulet, Lesser Kiskadee, Southern Lapwing, Black-throated Mango, and Saffron Finch. Then headed towards Gamboa and made a stop at the Summit Nature Park, which is a zoo that I later learned is right across the street from an easy access to old Gamboa road. The zoo was not yet open so I birded around the area and got some very good looks at a Rusty-margined Flycatcher. Once inside I explored the exhibits for a while and then hiked along some of their trails. Found Variable Seedeater, Crimson-backed Tanager, Great Kiskadee, a displaying Great-tailed Grackle, Red-crowned Woodpecker, Band-rumped Swift, Common Tody-Flycatcher, and a Lesser Goldfinch. Had to dodge some rain for a while, but on the bright side I did discover that Tapirs are much larger than I had expected. The zoo is also the most reliable place to see Harpy Eagle as they have one in a fairly nice exhibit. In the afternoon I headed up to the Canopy Tower to get checked into my room. The rooms are exceedingly modest (especially considering the price), but after a night sleeping in the car almost any bed is an improvement. Unfortunately the rain continued for much of the afternoon, but I did manage to see some Collared Aracari (belly), and Green Honeycreeper from the Tower dining room, and Blue-chested Hummingbird down at the feeders. The rain finally abated a bit and a group of us headed out with the guides to the Ammo Dump ponds. We found Rufescent Tiger-Heron, Wattled Jacana, Pale-vented Pigeon, Buff-throated Saltator, Plain Xenops, Barred Antshrike, Streaked Flycatcher, White-throated Crake, Common Tody-Flycatcher, and Yellow-tailed Oriole. Pretty good for a rainy afternoon, and then after dinner I had a brief, cold shower (hot water was not working the first few days) and tried sleeping in a bed for the first time this trip.

Sunday August 17, 2008

The group was up early and headed out to the famous Camino del Oleoducto (Pipeline Road) in Gamboa. We almost immediately found an army ant swarm right by the road and this finally introduced me to many birds with "ant" in their name. This included Bicolored Antbird (back, belly), Grey-headed Tanager, Plain-brown Woodcreeper (back), Little Hermit, Lesser Swallow-tailed Swift, Little Tinamou, Spotted Antbird, White-necked Puffbird (side), Crimson-crested Woodpecker, Slaty-tailed Trogon, Purple-throated Fruitcrow, Scarlet-rumped Cacique, Slaty Antshrike, Cinnamon Woodpecker, White-tailed Trogon, Dot-winged Antwren, Black-striped Woodcreeper, Plain Xenops, Spot-crowned Antvireo, and Spectacled Antpitta. After a great morning we headed back to the tower for lunch where some Yellow-crowned Euphonias were spotted from the dining room. The afternoon tour was on old Gamboa Road from the access that is across from the Summit Nature Park. This hike is along a jungle/grasslands border and also includes some wetlands areas. We found Tropical Gnatcatcher, Crimson-backed Tanager, White-shouldered Tanager (front), Fasciated Antshrike, Buff-throated Saltator, Violaceous Trogon (side), Spectacled Owl, and Crane Hawk. Back at the Canopy Tower the humminbird feeders produced Blue-chested Hummingbird and White-vented Plumeleteer.

Monday August 18, 2008

This morning we started up on the tower and the proceeded down the Canopy Tower road. The tower was very quiet with the main highlight being some Sloths in the trees nearby, and the only birds of note were some Band-rumped Swifts. The hike down the road was fairly productive with Red-capped Manakin, White-whiskered Puffbird, Spotted Antbird (female), Slate-colored Grosbeak, a troop of Howler Monkeys, Dot-winged Antwren, Broad-billed Motmot, Checker-throated Antwren, Dot-winged Antwren, and a Great Potoo. Then it was back up to the Tower for lunch and as we had a few hours before the afternoon outing a couple of us headed up to the top of the Tower for some birding. Wow, was it ever quiet. I think we saw 2 Black Vultures and otherwise absolutely nothing. Not having anything better to do we stayed up there and were rewarded with some brief, but decent, looks at an Ornate Hawk-Eagle that flew into a nearby tree for a minute. So, three birds in two hours, but one was a pretty nice one. Also had a good look at a Three-toed Sloth. For the afternoon guided outing we went to the Gamboa Rainforest Resort and hiked around their grounds. It was extremely birdy and we saw Orange-chinned Parakeet, Piratic Flycatcher, Scrub Greenlet, Tropical Pewee, Golden-hooded Tanager, Plain-colored Tanager, Blue Dacnis, Palm Tanager, Common Tody-Flycatcher, Red-crowned Woodpecker, White-shouldered Tanager, Paltry Tyrannulet, Yellow-crowned Tyrannulet (side), Buff-breasted Wren, Panama Flycatcher, Southern Rough-winged Swallow, Great Kiskadee nest, Rusty-margined Flycatcher, White-throated Crake, Barred Antshrike, and Grey-headed Chachalaca. Back at the Canopy Tower in the late afternoon produced only a Blue-chested Hummingbird and some Swifts.

Tuesday August 19, 2008

Breakfast in the morning again produced Collared Aracari. The group then headed out to the Panama Rainforest Discovery Center Observation Tower that is a short way down Camino del Oleoducto (Pipeline Road). This was a very impressive observation tower with platforms for birding throughout the canopy, and crowned by another platform above the canopy. The birding was extremely good and included Chestnut-mandibled Toucan, Keel-billed Toucan, Piratic Flycatcher, Green Shrike-Vireo, Blue-headed Parrot, Purple-crowned Fairy, Blue Cotinga (belly), Purple-throated Fruitcrow, Band-rumped Swift, Black-crowned Tityra (female), Scaled Pigeon, Lineated Woodpecker, Great Black-Hawk (talon), and Black-cheecked Woodpecker. On the hike back to the truck was also saw a very cryptic Frog. On the drive through Gamboa we stopped to find a roosting Lesser Nighthawk. We then stopped at the docks of the Gamboa Rainforest Resort and picked up Ringed Kingfisher, Striated Heron, Common Moorhen, Snail Kite, Wattled Jacana, Black Vulture, Mangrove Swallow (front), Purple Gallinule, White-bellied Antbird, and Common Tody-Flycatcher. Back at the Canopy Tower for lunch and the usual suspects of Blue-chested Hummingbird and Collared Aracari around the Tower grounds. After lunch I decided to head out on my own and attempt to bird down at Metropolitan park. Unfortunately I got stuck in an incredible traffic jam and after 15 minutes of stop and go traffic (mostly stop) uphill in my manual transmission rental car I went for plan B. Turned around and headed over to the Diablo Mangroves just west of Albrook. This ended up being more of a fishing pier than mangroves (perhaps I was not in exactly the right place), but I did see Grey-breasted Martin and Spotted Sandpiper. After that I wandered back over to Ciudad del Saber to bird in the park again and got some very good looks at Southern Lapwing (on grate), Great Kiskadee, Black Vulture, Saffron Finch, White Ibis, and Yellow-bellied Seedeater. I then headed back to Gamboa and birded on old Gamboa road where I found Keel-billed Toucan, Buff-throated Saltator, Common Pauraque, Thick-billed Euphonia, Grey-headed Chachalaca, Collared Aracari, and Red-lored Amazon. Back at the lodge for dinner provided another troop of Howler Monkeys up close to the dining room. That night I went on the group night tour where we saw an immature Slaty-tailed Trogon and a Common Pauraque.

Wednesday August 20, 2008

This morning I headed out on my own to Camino del Oleoducto (Pipeline Road) as after a few days of group birding I am always ready to head out on my own once again. A single person is generally sneakier than a group and I even managed to see some unusual mammals like Northern Tamandua, and White-nosed Coati. The bird sightings included White-tipped Dove, Black-throated Trogon, Keel-billed Toucan, Yellow-rumped Cacique, Masked Tityra, Violaceous Trogon, Chestnut-mandibled Toucan, White-flanked Antwren (belly, juvenile, male, molting male, female with spider), Black-bellied Wren (front), Checker-throated Antwren, Blue-crowned Manakin, Dot-winged Antwren, Spot-crowned Antvireo, Scarlet-rumped Cacique, Black-striped Woodcreeper (side), Cinnamon Woodpecker, Ruddy-tailed Flycatcher (belly), Plain-brown Woodcreeper, Grey-headed Tanager, and Blue-black Grosbeak. It was an amazing morning of birding on Pipeline Road, but after lunch at the Canopy Tower it was raining once again so the afternoon was a washout.

Thursday August 21, 2008

Breakfast at the Canopy Tower provided some great looks at Howler Monkey. I had to do some business in Clayton so I got an early start and did some birding in the Ciudad del Saber ballpark once again. Saw American Kestrel, Fork-tailed Flycatcher, White Ibis, Saffron Finch, Olive-sided Flycatcher, Pale-vented Pigeon, and Common Tody-Flycatcher. I then spent a few hours filling out forms and went over to the Miraflores Locks for lunch and a look at the Locks in action. It began raining again so I spent a few hours in the museum and then headed up to the east access of old Gamboa Road to do some birding. Took a bit of searching to find the trail, but then the hike went fairly well, if a bit buggy. I had just come across an army ant swarm attacking when it started to rain. I patiently waited for it to stop for about an hour, and then finally decided to surrender to the elements and headed back to the Canopy Tower. Did some birding at the Canopy Tower feeders and picked up Long-tailed Hermit, Violet-bellied Hummingbird, Blue-chested Hummingbird, and Slaty Antshrike.

Friday August 22, 2008

Checked out after breakfast and headed to the east access of old Gamboa road once again. Found Dusky Antbird, Rufous-and-white Wren, White-bellied Antbird, and Yellow-headed Caracara. I then headed into Panama City and spent many dull hours at immigration until finally receiving the documents I needed right before they closed. I then spent the next 90 minutes driving around Panama City hopelessly lost as I attempted to find my way out of town. I finally managed to hit the road and headed up to Sora arriving fairly late at night at the Bed and Breakfast in Altos del Maria.

Saturday August 23, 2008

I spent the day birding in Altos del Maria - mostly on the streets. Found a Northern Waterthrush on the Bed and Breakfast grounds. I then attempted to drive up to the birding trail in la Riocca, but my little Yaris was no match for the extremely steep streets up there so I had to park a little short of the birding area and then hiked around the streets up there. I saw Hepatic Tanager, Silver-throated Tanager, Tawny-capped Euphonia, Bay-headed Tanager, Mouse-colored Tyrannulet (side), and Yellow-bellied Seedeater.

Sunday August 24, 2008

Headed up to my land in the Asturias subdivision, and that was a fairly impressive drive to make in my little Yaris. Birds seen were Black-striped Sparrow, Blue-black Grassquit, Scaly-breasted Hummingbird, Swallow-tailed Kite, Thick-billed Euphonia, Broad-billed Motmot, Panama Flycatcher

Monday August 25, 2008

Today I made a huge road trip from Sora to Las Lajas and back to look at some forestry land and did not have much time for birding. Saw many Yellow-headed Caracaras on the drive. In Las Lajas I did see a Yellow-bellied Seedeater.

Tuesday August 26, 2008

Last day of the trip and I had some time to bird around the Bed and Breakfast. Found a birdy and buggy area that produced Red-eyed Vireo, Plain Wren, Yellow-faced Grassquit, Thick-billed Euphonia, Red-legged Honeycreeper, Streaked Saltator, Lance-tailed Manakin, Lesser Elaenia, Variable Seedeater, and Long-billed Starthroat. Then it was time to pack up the car and make the drive back to the airport.

Final Thoughts

A fairly productive birding trip considering it was thrown together at the last minute and also had to involve a bit of business. Renting a car is relatively inexpensive and is a good way to make it to the more off-beat birding location, but driving in Panama City is not for the faint-hearted and a four-wheel drive vehicle would have been better for the birding sites away from Gamboa and Panama City. The birding sites around Gamboa are extremely productive and Pipeline road deserves its very good reputation. However, the accomodations at the Canopy Tower are both extremely expensive and very modest. When you include the cost of hiring the guides for the day then you are well over $200 per day. I found the birding around the Canopy Tower to be disappointing compared the the Canopy Lodge as the grounds are very limited and there were no fruit feeders set up. Perhaps this was just a poor time of year to bird from the Tower, but there was almost nothing flying around up there, especially compared to the Rainforest Discovery Center Observation Tower. However, expensive accomodations appear to be a trend throughout the Panama City area so other options are limited.
---
Return to the Adventures of Photobirder summary page.