Photobirder Adventure in Panama March 2008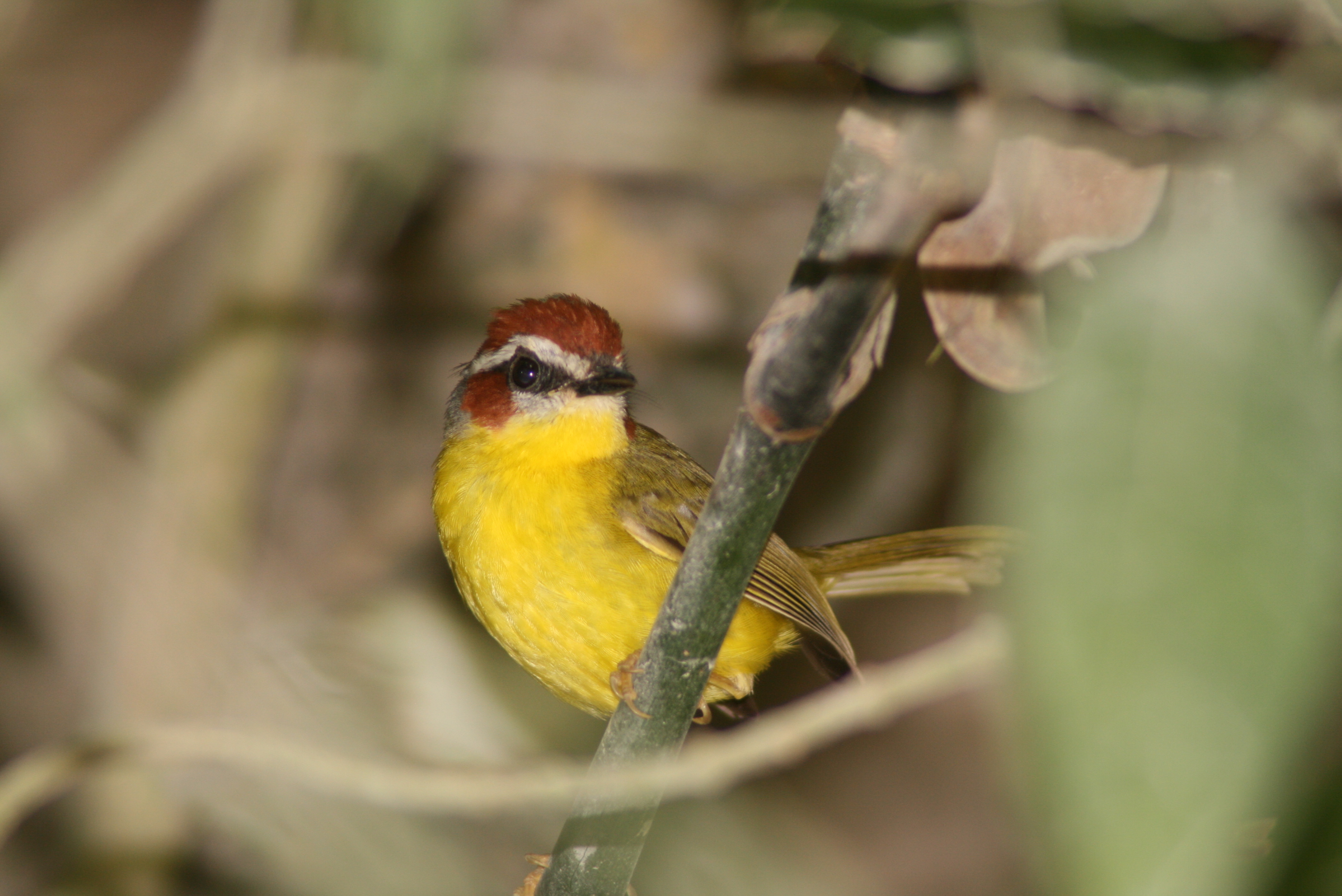 Rufous-capped Warbler, El Valle Panama, March 2008
---
---
Places visited and books utilized

Trip Report

This was my first trip to Panama and I was going solo and packing light with only my digital Rebel with a Tamron 200mm - 400mm lens, my trusty old Nikon 10x50 binoculars, a backpack with some clothes and the Ridgely and Gwynne "A Guide to the Birds of Panama" book. With my entire gear as carry-on that meant no liquids, but I figured I could just pick up some sunscreen and other hiking gear at the Canopy Lodge gift shop.

Friday March 21, 2008

The flights from Albuquerque to Panama city (via Houston) were uneventful and the driver I arranged through Canopy Lodge was waiting for me at the airport. It was already well after dark when I arrived at the Canopy Lodge and I was shown to my cabin and went right to bed. The room was a bit modest considering the $150 a night charge and these single person rooms have shared bathrooms, which was not a big deal, but was a surprise.

Saturday March 22, 2008

Morning came and I awoke to the new sounds of Blue-Grey Tanagers singing and quickly dressed to head out for some birding. Alas, I discovered that I had left my hat in the car and it would take a couple of days until I managed to get that back. I also found that there was no gift shop at the Canopy Lodge so my plan to buy sunscreen was foiled. However, the birds at the Lodge feeders were superb and I went right into new bird overload trying to take pictures of everything I saw with the glorious confusion and excitement that can only come when birding in a new location full of brand new birds. Their fruit feeders were full of tanagers and I immediately got some good looks at what I would later learn were reliable feeder birds such as White-lined Tanager, Thick-billed Euphonia (the most common bird at the feeders), Red-leged Honeycreeper, Blue-grey Tanager, Chestnut-headed Oropendola and Palm Tanager. During this rush of new species someone spotted a Lineated Woodpecker on a nearby tree and I reluctantly left the feeders to take a look at this wonderful large woodpecker. Good thing I only saw that bird one other time on this trip. Then back to the feeders for Crimson-backed Tanager (male), Clay-colored Thrush or Robin, Rufous-tailed Hummingbird, Variable Seedeater, and Flame-rumped or Lemon-rumped Tanager (female). After a very good breakfast I set out with my guide Domi. That was the end of my wondering why the rooms were $150 a night as that covers the room, three well cooked meals, and one or more guides and drivers to take small groups out birding in the morning and afternoon. Domi was a superb guide who knew every bird by ear and who was able to call in many different species. This morning I was the only person along with Domi and we hiked out from the Canopy Lodge up the road to the nearby Canopy Adventure. We found a Black-striped Sparrow and the always present Turkey Vultures. The road to Canopy Adventure provided a Snowy-breasted or Snowy-bellied Hummingbird, and then and Domi showed me a female Violet-headed Hummingbird that was nesting alongside the road. We went on a hike into the forest and Domi found a Mottled Owl that often roosts for the day in that area. Our hike turned up a Yellow-bellied Elania and then I spent quite a while following a Rufous-backed Warbler along the road until I'd seen him from just about every angle (side,back). The Rufous-backed Warbler reminded me a lot of the Wilson's Warbler (with the exception of the head pattern) as the coloring and behavior are similar. I always appreciate a warbler that like to forage in the lower bushes. Birding along the road was very good, but there were a lot of cars to dodge as this was Easter weekend and it seemed most of the residents of Panama City were out in El Valle for a holiday. There was a feeder set up at the Canopy Adventure that is reliable for White-vented Plumeleteer as the bird would perch nearby to guard the feeders. We picked up a Spotted Woodcreeper on the way back and we heard Bay Wren, Rufous-breasted Wren, Orange-billed Nightengale Thrush, and a Golden Collared Manakin. Got some good looks at the easy to see Tropical Kingbird along with male and female Red-legged Honeycreepers. This morning was also the only time I bothered to haul the bird book into the field as it is rather heavy and having a real guide along makes the book pointless in the field. I did read through it every evening though and used it quite a bit upon on my return to sort out all of my bird photos. During the lunch break I headed back to the feeders for more looks (and better pictures in the sunshine) at the Thick-billed Euphonia (immature male), Blue-grey Tanager, Red-legged Honeycreeper (male), Tennesse Warbler, Chestnut-headed Oropendola (male and female), Garden Emerald, House Wren, White-tipped Dove, Palm Tanager, Streaked Saltator and Variable Seedeater (male). After lunch a small group of us headed out to la Mesa, which is an area that is at slightly higher elevations compared to the Canopy Lodge and it is a mix of jungle habitat interspersed with chicken farms. On the ride up we stopped at a pond where a Ringed Kingfisher was hunting fish from a large tree and I got a brief look at a Southern Rough-winged Swallow. We also saw a Ruddy Ground-Dove on our drive up along with Smooth-billed Ani. Immediately upon arriving at our destination at la Mesa we found a tree that contained a Silver-throated Tanager that I managed to get some very good, looks at (side, back). While I was looking at that bird a Scarlet-thighed Dacnis showed up in the same area. Our hike along the road quickly turned up a pair of Yellow-faced Grassquit, but lost them when a small herd of cows escaped from a finca and went off down the road and back again a few times. There were many hummingbirds including several Snowy-breasted or Snowy-bellied Hummingbird and a single Bronze-tailed Plumeleteer. We briefly saw a Yellow-bellied Elania calling from a nearby tree and we saw many Turkey Vultures and Black Vultures flying closely overhead. We got some distant looks in the scope at Grey Hawk, Black-chested Jay, and Scaled Pigeon. The final sighting of the day was a Orange-billed Sparrow that snuck into the Canopy Lodge feeders right at dusk while I was busy looking through the day's photos and consulting the field guide. Ended up being my only sighting of that bird during the trip.

Sunday March 23, 2008

I awoke to discover that my face and shoulders were a bit sunburned from the previous day so I switched from the tank-top to a long-sleeve shirt. Again up to the now familiar sound of Blue-grey Tanagers I headed to breakfast and then snuck down to an area at the Canopy Lodge where there is a large tree-house, a man-made pond, and some kind of fruiting tree that was covered with Orange-chinned Parakeets who are sometimes difficult to spot, but extremely vocal. Looked like they were feeding on the fruit, although I do not know what kind of fruit it was. This tree was reliable for parakeets all week. After hanging out with the parakeets for quite a while Domi came to collect me and a large group of us (with Domi and one other guide) headed off to la Mesa. Before we had even left the Canopy Lodge parking lot someone noticed a distant Yellow-headed Caracara. Once on the road we again disembarked near a chicken farm and the guides quickly found two Southern Lapwings in a grassy area that surrounds the chicken barns. As the rest of the group headed down one road I snuck out to get a better look at the Lapwings as that was a new bird for me. After getting my fill with those wonderful large plovers, I caught back up with the group and discovered they had a Bright-rumped Attila up in a tree and as the bird was calling constantly I was able to get some good looks at it before it eventually flew away. We then headed down a steep side path and the other guide was playing tapes to try and bring in birds with "ant" in their name somewhere. I think some of the other members of the group were quite experienced Panama birders so they were trying for the "hard stuff". With this only my second day I was still happy to see anything. As they played "find the antpitta" for 30 minutes or so I wandered around a bit and found a Dusky-capped Flycatcher that had found a good perch for hunting and eating bugs. The others eventually tired of trying to find obscure birds and started heading back out. On the way out the guides found a Emerald Toucanet that was perched fairly close to the trail. We then continued down the road trail and were out in the sun quite a lot on this road as it ran along the top of a ridge. I was lagging a bit behind the group as I tried to track down some elanias and wrens without much luck, and to be honest I was a bit worn out from being out in the sun without my trusty hat to shield me. I managed to see the Rufous-capped Warbler again and then stumbled across a female Violet-crowned Woodnymph (belly). Feeling a bit more refreshed after some time in the shade I managed to catch back up to Domi and got some good looks at a Scale-crested Pygmy-Tyrant (back), or as Domi described it "small bird long name". I pursued some Common Bush-Tanagers for a while and got some decent looks, but they are well named and quite fond of cover. We finally caught back up with the main group who had found a Tufted Flycatcher hunting from a perch above a stream. Got some good looks at a Snowy-breasted Hummingbird yet again as well. We hiked quite a ways and saw many vultures and even a distant Hepatic Tanager. Finally the troops started to get mutinous and we turned back. On the way back we did see a Sloth up in a tree and I got a few more looks at the Emerald Toucanet, Scale-crested Pygmy-Tyrant, White-lined Tanager and Silver-throated Tanager. We took a break for snacks and drinks at the van and a very accomodating Tropical Pewee found a perch near the van and began calling enthusiastically. A nice final bird before lunch. The lunch break is normally about 3 hours (ah, siesta) and I took the time to camp out down in a shady spot at the Canopy Lodge feeders again. Decent looks at Tennessee Warbler, Buff-throated Saltator, Red-legged Honeycreeper, Crimson-backed Tanager, Streaked Saltator (beak), Chestnut-headed Oropendolas, Thick-billed Euphonia (female), Blue-grey Tanager, Variable Seedeater (female), Rufous-tailed Hummingbird, Rufous-tailed Hummingbird, Red-crowned Woodpecker, Clay-colored Thrush or Robin (side), and Bananaquit. Whew, not bad for some lazy birding. Their feeders are really productive and well worth the time spent sitting around sipping drinks in comfort while watching tropical birds. Alas, comfort does not stop time from passing and soon it was time to head out and earn my birds once again. On the bright side my hat had reappeared and that greatly improved my morale as I was now quite toasty on my head and face, not to mention a burnt triangle all the way down my chest from walking around with my long-sleeved shirt unbuttoned. This afternoon was a repeat of the hike up the road to Canopy Adventure with Domi and one other guest of the lodge. Again the verbena plants along the road were superb and we immediately picked up Little Hermit and Snowy-breasted or Snowy-bellied Hummingbird. Up the road a bit further we found White-shouldered Tanager (male), (female), and got a great look at a Violet-headed Hummingbird (female). A fig tree along the road provided a Green Honeycreeper. Then it was time to explore the cool, shady, undercanopy at the Canopy Adventure. We missed the owl, but I did get my first looks at two birds from one of my favorite families: Rufous Motmot and Broad-billed Motmot. I gave my lucky hat full credit for the motmots appearing. Again saw the White-vented Plumeleteer at the feeders. We tried for the Sicklebill, but missed. I think Domi was mainly giving us a break waiting for that bird as both of us gringo tourist birders were looking a bit tired. On our walk back to the lodge we got good looks at a Buff-throated or Cocoa Woodcreeper and a wonderful Golden-hooded Tanager up in that fig tree. I managed to look sufficiently sunburned at dinner that one lady took pity on me and gave me her spare bottle of sunscreen. That made the rest of the trip even more enjoyable.

Monday March 24, 2008

Having already managed to sunburn multiple parts of my body, today I went with the high-collar sleeveless shirt to hide my chest combined with the long-sleeved shirt to protect my shoulders. Note to self: bring sunscreen next time. Today I was planning to somehow get from Canopy Lodge to Altos del Maria and was surprised to hear from Domi that there was a car coming to take me there. Surprised because I had not ordered such a car, but I figured I would go with the flow. Packed quickly and grabbed some breakfast and then spent several hours birding on the grounds. Canopy Lodge feeders turned up a White-lined Tanager, Rufous Motmot, Palm Tanager, Lemon-rumped Tanager, Blue-grey Tanager, Clay-colored Robin, Red-crowned Ant-Tanager, Chestnut-headed Oropendolas, Thick-billed Euphonia, and Dusky-faced Tanager. We got a visit from a Long-billed Starthroat that created a bit of a stir amongst us feeder watchers. It was a slightly damp morning so most folks were cheerfully camped out under the roof of the dining area while watching the feeders. I was having a friendly contest with a digiscoper and it was clear that my fixed lens was inferior to the digiscope for feeder birds. Ah well, I guess I am made for mobility. We saw another Buff-throated Saltator and then had another surprise visitor with a female Tawny-capped Euphonia. This did expose a weakness of the Ridgely and Gwynne guide as it sadly does not include an illustration of this bird. Luckily, someone had another field guide (I believe a Peterson guide to central America) that did have an illustration of this bird, although it looked like the crown was not drawn quite the same as the actual bird. Just part of the fun of tropical birding as it is still more of a frontier for identification. Eventually the sun came back and the others headed out on their morning bird adventure. I milled about on the grounds waiting for my ride and managed to stumble across a Rosy Thrush-Tanager for some decent looks, and horrible photographs. When I let the others know this created a bit of a stir as it is sought after since it is another one of those birds that prefers to forage in the underbrush. I waited for a bit in the parking lot and found a Dusky-faced Tanager in a tree along with another one that was doing his best to battle his reflection in the side mirror of the birding van. My car eventually arrived so it was time to go, except it eventually turned out it wasn't my car but one for another fellow and they finally realized I did not have a car coming. With a couple of phone calls to Honey for directions, and a bit of help from Domi I was soon hiking down the road to the center of town to catch a bus. On the way I decided not to pack the field guide on the next trip (does add to the weight of the backpack) and I got some good looks at some Grey-breasted Martins. One of the Canopy Adventure drivers saw me hiking and gave me a ride to the bus and got me on my way to Bejuco. The bus rides were quite fun as I got to see a lot of the countryside and it was very inexpensive (less than $4 for two buses) compared to hiring a car or taxi (which would have been at least $100). Two bus trips, a hike, and a ride bummed from an Altos del Maria sales agent and I was at La Estancia del Encanto in the center of Altos del Maria. La Estancia del Encanto is not specifically a birding lodge so it lacked the feeders and bird-friendly landscaping of Canopy Lodge. However, there is a creek running along the backside of the property and there are many roads to hike nearby with quite a different set of birds compared to Canopy Lodge. I found a Plain Wren in their creek and a Yellow-backed Oriole in one of their larger trees. I also spent a while photographing a flycatcher that was working its way across their property. Alas, it is one of "those" flycatcher and is currently listed as a Traill's Flycatcher. A hike up the road provided Yellow-faced Grassquit, Blue-black Grassquit, Fork-tailed Flycatcher, and a kettle of Hawks. I had never seen anything like that before and it was very cool. Also briefly saw some swifts, but not well enough to determine the species. Three days of adventure had finally caught up with me and I was happy to head to bed as soon as the sun went down.

Tuesday March 25, 2008

The morning started with a bird song that I never was able to identify despite waking up to it every morning. Got dressed and saw a female Red-legged Honeycreeper working on a flowering tree outside of my deck. I was supposed to meet one of the Altos del Maria realtors to take a look at some land (part of an elaborate scheme to move somewhere with a wonderful climate and tons of birds) so I hung around the Bed and Breakfast for most of the morning. I was rewarded with Blue-black Grassquit, Blue-crowned Motmot, and a Red-crowned Woodpecker. As I am not good at waiting around I soon ended up hiking about a bit and picked up a flying Broad-winged Hawk. Some pine trees across the street provided good looks at a Yellow-bellied Elaenia. I also took some photos of a Yellow-crowned Euphonia, but I had gotten lazy from all of the Euphonias at Canopy Lodge and did not realize it was something other than a Thick-billed Euphonia until later. Good thing the Photobirder motto is "shoot first, ask questions later". I then spent about 20 minute chasing a Yellow-green Vireo. Grass seeds were plentiful and I finally got a look at the lighter form of the Variable Seedeater. Wandered back to the Bed and Breakfast to hang out some more and got my first looks at a Black-chested Jay. Also found a Black-striped Sparrow and a Southern Rough-winged Swallow. The grounds at the Bed and Breakfast provided more good looks at a female Yellow-faced Grassquit and my only look of the trip at a Streaked Flycatcher. Finally showing a complete lack of patience, I headed off towards the river walk trail. On the way there was a bit of a rainshower so I got a bit damp and then found some damp Orange-chinned Parakeets. The river walk was very beautiful and rather challenging as the trail is mostly stone steps heading up and down along the river. The waterfalls were lovely and the suspension bridges added a nice sense of adventure to the walk. Strangely, the number of birds seemed lower than out on the roads. I did hear a really loud bird squawk that made me think it would come from a large ground bird, but could not locate it. While I was trying to track down that sound I got some good looks at a Buff-throated or Cocoa Woodcreeper and a Red-crowned Ant-Tanager (chin). Saw (and heard - they are loud) a Bay Wren across the river. Eventually I decided to head back and see if anyone had shown up looking for me while I was gone. Found a Violet-headed Hummingbird in some of the many flowers bordering the road and got some great looks at a Swallow-tailed Kite (back). I had managed to miss the people I was supposed to meet up with, but sorted things out and took a look at some property for most of the middle of the day. In the evening I got some more good looks at a Red-crowned Woodpecker at the Bed and Breakfast.

Wednesday March 26, 2008

This day was almost entirely devoted to birding and I again woke up to the mystery bird song and headed out at dawn. I did a short hike and found Black-striped Sparrow, Variable Seedeater, Fork-tailed Flycatcher, an Elaenia, Lesser Seed-Finch, Blue-black Grassquit, and some strange looking Guineafowl that I am assuming must be an escaped domesticated bird (and I welcome feedback from anyone who can confirm or deny that). I again got some good looks at a Yellow-green Vireo and then I headed back for a large and yummy breakfast. About the only bad thing that can be said about the breakfast is that it is hard to leave because the food is very good and there always seems to be someone dropping by from the neighborhood to chat. Luckily, my laziness was rewarded with good looks at a male and female Blue-black Grassquit. Roaming around the grounds also turning up a Social Flycatcher, a nesting Plain Wren, and great looks at their resident Blue-crowned Motmot (back) hunting from perches above the creek. He sure did like to swing his tail back and forth: I guess I would too if I had a wonderful long tail like that. I then set off for a hike of the neighborhood and saw Grey-brested Martins, the Fork-tailed Flycatcher again, and a flock of Plain-colored Tanagers. The terrain is very hilly and the roads are often on the crest which makes for great close-up views of birds that usually fly much higher like the Black Vulture. I once again paid for not carefully checking the Euphonias as I only took a single picture of a Yellow-crowned Euphonia that was perching up on a wire. I managed to track down a stealthy flock of Black-chested Jays working through some of the many pine trees. I then headed back towards the river walk trail and on the way I saw an enormous grasshopper that was at least 6 inches long. At the entrance to the river walk I stopped to watch a Squirrel Cuckoo for quite a while as he was working his way back and forth between some trees. The river walk was once again very beautiful and this time I went almost to the end of the trail crossing the river on many suspension bridges and seeing several lovely waterfalls. This trail has everything except for an abundance of birds. I did managed to get some good looks at a couple of Orange-chinned Parakeets that flew in above me. Only a handful of birds in return for a couple hours of hiking. Eventually hiked my way back to the Bed and Breakfast and met up with some people who were heading down to the monthly ex-pat social in Coronado. I took the opportunity of tagging along and picked up a cell phone while I was down there. For $25 you get a phone and $20 worth of minutes and this is something to consider if you are exploring Panama for any length of time as it is a cheap way to call home also helps when travelling around. The food was nothing special at the dinner, but the people were a ton of fun and you can't go too far wrong with $1 beers at a bar.

Thursday March 27, 2008

My early morning bird hike only turned up a Yellow Warbler in addition to the usual suspects. The plan for today was to explore real estate, but I always have my trusty camera with me and managed to get some good looks at a perched Broad-winged Hawk and a Broad-billed Motmot (side). Finished with business by late afternoon and managed to get in a little birding back at the Bed and Breakfast to turn up a Boat-billed Flycatcher, Social Flycatcher, and a look at the red belly of the Red-crowned Woodpecker. My evening hike finally provided me some close-up pictures of a male Yellow-faced Grassquit.

Friday March 28, 2008

This was my last morning at la Estancia del Encanto in Altos del Maria and I needed to head back to the Canopy Lodge in El Valle. Awaking again to the song of the mystery bird I headed out for a morning hike across the street where the Fork-tailed Flycatcher had been on prior days and was rewarded with some very good looks at this showy kingbird. That same area continued to be good for grassland birds and I had some good looks at a Lesser Seed-Finch (male) (female) (male with a Yellow-faced Grassquit). Also found a White-tipped Dove, Garden Emerald, and a Social Flycatcher. Went back and had breakfast and then was debated whether to take the bus or to try and hike the 9 miles to El Valle. It is 9 miles by rough road, but quite a bit longer on the route the busses take. As I was hanging out in the lobby of the Bed and Breakfast debating my course of action a Black Vulture landed on the driveway and took a keen interest in me. I decided this was an ominous sign for my plan to hike across the mountain without a map so I bummed a ride to Sora, took a couple of bus trips, and ended up bumming a ride from the same Canopy Adventure worker who had given me a ride to the bus a few days earlier. I made it to the Canopy Lodge in time for lunch and was treated to another fantastic look at a kettle of hawks immediately upon arriving at the lodge. I ran into some people who knew they were going out that afternoon with a photographer. Figuring that was probably me I hunkered down at the feeders and saw Rufous Motmot and Clay-colored Robin. Then someone pointed out an immature male Garden Emerald that was perching and flying in a bush near the walking bridge that spans the river that runs through the center of the Canopy Lodge property. As he was actively guarding his bush from an adult male Garden Emerald he paid little attention to me taking his picture. The feeders continued to be active with a female Crimson-backed Tanager, Red-legged Honeycreeper, Variable Seedeater, Thick-billed Euphonia, Rufous-tailed Hummingbird, Blue-grey Tanager, male Flame-rumped or Lemon-rumped Tanager, Dusky-faced Tanager, White-lined Tanager, Streaked Saltator, Palm Tanager, and a squirrel. The afternoon birding hike was down on Iguana road which is in a part of El Valle with very nice mansions and well groomed grounds. The first bird I saw there was a Yellow-crowned Euphonia and that is when I realized ignoring the Euphonias at Altos del Maria had been a bad idea. We then all got another obscured look at a Rosy Thrush-Tanager and got to hear it sing for quite a while. On the sneaky birds theme I also managed to get a photograph of a Rufous-and-white Wren. We also saw a Little Hermit, and Lance-tailed Manakin. We then had a rush of birds starting with an adorable little Lesser Greenlet (beak forward), immediately followed by a Yellow-throated Vireo, American Redstart, Garden Emerald, Black-throated Green Warbler, and concluding with the tiny Black-headed Tody-Flycatcher who was moving along the trees and calling constantly. The power was out for a while so dinner was delayed, but was still very tasty, and afterwards everyone grabbed their flashlights and headed over to a banana tree where opossums had been seen the night before. They were back and with everyone shining their flashlights on the little critters I managed to get some decent photos of what someone else identified as a Central American Wooly Opossum.

Saturday March 29, 2008

Up again to the delightful sounds of singing Blue-grey Tanagers. Grabbed breakfast and headed out to la Mesa with Domi. Again hanging out around the chicken farms and searching the nearby jungle for birds. Domi heard a Barred Forest-Falcon calling and we tracked it for about half and hour until a second one turned up and we managed to see it perched briefly. We then chased some of those birds with "ant" in their name for another half hour and I managed to very briefly see a Plain Antvireo who got confused and was visible for 4 whole seconds. Alas it takes me 3 seconds to point the camera, focus, and push the button so she was looking the other way by the time I took the picture. We began hiking again and saw a Yellow-faced Grassquit, a Keel-billed Toucan and another sloth. We saw a female Tawny-capped Euphonia, Paltry Tyrannulet (belly), White-lined Tanager, Thick-billed Euphonia, and a pair of Ruddy Ground-Doves. If I was to name that species I would call it the Chain-link Dove as every time I see them they are either perched up on a fence, or right along side of a fence. As we hiked further into the jungle the birding got very good with lots of birds in mixed flocks. We saw Bay-breasted Warbler, Black-throated Green Warbler, Tennessee Warbler Chestnut-sided Warbler, Mourning Warbler, Golden-winged Warbler, and Black-and-white Warbler, Mixed in with all of the north american migrants were some good central american birds like Olive-striped Flycatcher (behind berries, side), female Golden-collared Manakin, male Tawny-capped Euphonia, Tawny-crested Tanager, Bay-headed Tanager (side), Plain Xenops, Red-throated Ant-Tanager, and Silver-throated Tanager. A very good morning of birding. As this was my last full day in Panama I kept birding on the Canopy Lodge grounds for the lunch break and found a molting Bay-breasted Warbler (side), Snowy-bellied Hummingbird, an iguana, Garden Emerald, House Wren, Variable Seedeater, Black-striped Sparrow, Red-legged Honeycreeper (female, male - side), Golden-hooded Tanager, Buff-throated Saltator, Rusty-margined Flycatcher, and a large lizard. Our afternoon birding destination was a large hotel grounds in El Valle where some sort of horse competition was going on that looked like an equestrian event with the english riding outfits replaced with ponchos and sombreros. We had some good looks at a Plain-colored Tanager (eating), Social Flycatcher, Spotted Sandpiper, and some Grey-breasted Martins right at the hotel grounds itself. We then set off on a hiking trail around the back of the property that provided Southern-beardless Tyrannulet, Rosy Thrush-Tanager, Wedge-billed Woodcreeper, and Lance-tailed Manakin. At the end we were back where we started and I noticed a Peacock in a chain-link fenced cage who was joined by two Ruddy Ground-Doves who sensed their duty to again put a chain-link fence between them and my camara. A restful evening back at the Canopy Lodge provided a look at a Common Paraque that flew out into the open in response to my whistling. After determining I was a very odd looking Paraque he flew off once again.

Sunday March 30, 2008

My last day in Panama provided me a few hours of birding in the morning. Most of the usual suspects at the feeders plus a Long-billed Starthroat. I did see my first Grey-necked Wood_Rail as I was coming out of my room and learned from the guides that they are fairly common back there near the cottages. As I was busy digging through my backpack to find some sunscreen and toothpaste to pass along to the next solo male birder (whose luggage had not made the trip) I was delighted to see a Bay Wren fly over to the flowers right in front of me and slowly make his way along the path sneaking through the underbrush. Managed to get some more good looks at a Rufous Motmot on the feeders. A short hike up the road provided Southern Rough-winged Swallow, White-lined Tanager, and a flock of Keel-billed Toucans. Picked up a Rose-breasted Grosbeak and a final Green Honeycreeper and then Domi told me the car was waiting and it was time to go. Alas, the battery in the car was dead from the driver having taken a bit of a nap in it with the lights on that morning, but after a bit of a push downhill it was ready to go and the trip to the airport and back to New Mexico went without any trouble.

Final Thoughts

The Canopy Lodge was a superb birding destination and is really built with the birder in mind. However, it is not equiped with a gift shop so don't make my mistake and assume you can easily pick up some toothpaste or sunscreen once you arrive. The guides were extremely good and are the main selling point for staying at the lodge. Between the guides and the extensive library at the lodge there is no reason to bring along any field guides and that can save you some weight and space if you are packing light. The people in Panama were very nice and I did not have any problems or sense dangerous folks at any point during this trip. Even with my pathetic pre-school level spanish I was able to bumble back and forth across the country on the good and absurdly cheap bus system and would consider replacing the rather expensive car rides to and from the airport with the bus on a future trip. The busses are small, but the passengers are nice and can leap in and out of the bus at a speed I was completely unable to match. My stay at la Estancia del Encanto in Altos del Maria was also very nice and provided some different bird species from the Canopy Lodge. However, the bird watching area in Altos del Maria (up in the cloud forest above 1000 meters) was too far away to walk and it would be a much better place to stay if you had a rental car so you could get around a bit more. On the other hand, spending a few hours a day loitering with the customers and friends of Honey and Larry is a pretty enjoyable way to spend your time. Without a car I think you could easily hike the neighborhoods and find plenty of good birds for 2 or 3 days. Overall the weather was wonderful and a mix of long-sleeve and short-sleeve shirts, a pair of long pants, a pair of shorts, and a hat is about all you need. I had very little trouble with bugs and did not see any mosquitos, although I did get some bug bites when I ventured into the long grass wearing shorts. The terrain is very hilly and some of the trails were a bit rough so good hiking boots are a must and a walking stick is a good idea for the less sure-footed birders. I will make every effort to return to Panama soon, perhaps in the rainly season as many of the locals told me it is quite lovely in the mountains that time of year and the hotels are a bit less expensive off-season. Thanks to everyone who helped make my trip a success.
---
Return to the Adventures of Photobirder summary page.